Orthodontic Treatment in Kirkwood, MO
Getting a straight, well-aligned smile can do wonders for your health and self-esteem! When it comes to getting braces in Kirkwood, MO, you can trust Dr. Thomure, your local dentist, to provide the highest quality of care in an environment you already know and trust.
Dr. Thomure has provided orthodontic treatment in his Kirkwood dental office for many years, and was even named an Invisalign® Elite Provider in 2009!
Types of Braces
Dr. Thomure provides patients with a variety of orthodontic treatment options, all customizable to meet each patient's specific needs and goals.
Removable appliance therapy, such as growth appliances for children
Full fixed braces for teens and adults
Segmental braces for minor crowding problems
Invisalign clear aligners
Comprehensive aesthetic treatment with orthodontics and veneers or bonding
Taking the First Step to a New Smile
We believe the biggest success factor when it comes to orthodontics is patient education.
The first step to a beautiful smile is a consultation with Dr. Thomure regarding your dental concerns and expectations of orthodontic treatment. This is followed by a thorough examination to assess your dental health, malocclusion, and other problems such as spacing, crowding, overbite, underbite, occlusal wear, rotated teeth, overlapped teeth, space closure of missing teeth, and more.
Next, you'll discuss which treatment alternatives may correct the conditions and help you develop a great smile. If you decide that orthodontic treatment is right for you, then diagnostic photographs, X-rays, and study models are taken.
Learn more about braces and Invisalign during your next appointment to our Kirkwood dental office!
Types of Braces
Traditional Metal Braces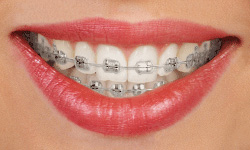 Traditional metal braces are the most common type, and are more comfortable today than ever. Made of high-grade stainless steel, metal braces straighten your teeth by using metal brackets and archwires. You have the option of adding colored elastics (rubber bands) for a more unique and colorful smile.
---
Self-Ligating Braces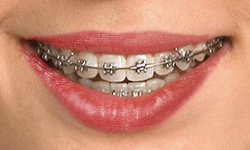 Self-ligating braces are made from the same materials as traditional braces; however, self-ligating braces do not require the use of elastics, which means fewer appointments and less friction placed on the tooth.
Self-ligating braces come with traditional metal, ceramic, or clear brackets. They are the same size as metal braces, but use a specialized clip in place of elastics to help the archwire guide teeth into place. The clip reduces the amount of pressure on the tooth and requires fewer adjustments because there are no elastics to replace.
---
Clear (Ceramic) Braces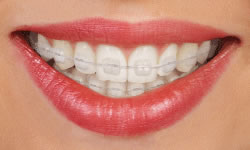 Ceramic braces are made of clear materials and are therefore less visible on your teeth than metal braces. For this reason, they are used mainly on older teenagers and adult patients who have cosmetic concerns.
Though they are visually less prominent, they require more attention to oral hygiene, because ceramic braces are larger and more brittle than their metal counterparts. For these reasons, they tend to be used more on upper front teeth rather than on lower teeth.
---
Clear Aligners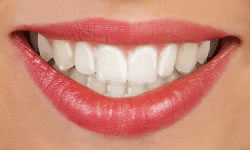 Clear aligners are a series of invisible, removable, and comfortable acrylic trays that straighten your teeth like braces. Not only are the aligners invisible, they are also removable; so you can eat and drink what you want while in treatment. Plus, this makes brushing and flossing less of a hassle. The aligners are comfortable and contain no metal to cause mouth abrasions during treatment.
---
Gold Braces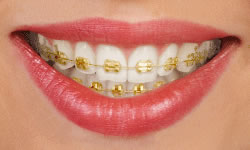 Gold braces are similar to traditional metal braces. Like traditional metal braces, gold braces are made of stainless steel; however, they are uniquely coated in gold. Some patients regard the gold coating as a more cosmetic option than traditional metal braces. The cost of gold braces is surprisingly comparable to that of most clear braces.
---
Lingual Braces
Lingual braces are hidden behind the teeth and are therefore "invisible" when you smile. They are 100% customized to match the shape of your teeth; the metal appliances are created uniquely for you. Lingual braces are a very reasonable option for athletes, models, actors/actresses, musicians who play wind instruments, and adult professionals.